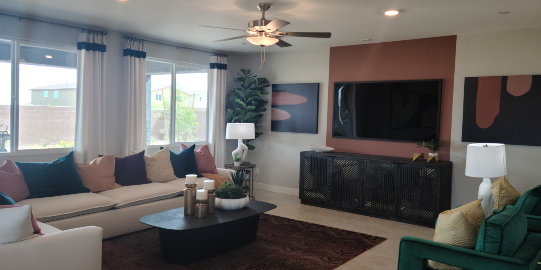 Selling your home can be a significant financial and emotional decision. To help you navigate the process and achieve a successful sale, here are the 8 steps to selling your home.
Whether you're a first-time seller or have experience, these steps will guide you through the process and maximize your chances of a smooth and profitable transaction.
Step 1: Prepare Your Home
1.1 Clean and Declutter
Start by thoroughly cleaning your home, including carpets, windows, and all living spaces.
Declutter by removing personal items, excess furniture, and anything that makes rooms feel crowded.
1.2 Make Repairs
Fix any visible issues such as leaky faucets, squeaky doors, and broken fixtures.
Consider getting a pre-listing inspection to identify and address any hidden problems. Contact me at 702-542-3089 or LasVegasHomesByJennifer@yahoo.com if you would like some contacts for licensed home inspectors.
1.3 Curb Appeal
First impressions matter. Enhance your home's exterior with landscaping, fresh paint, and a welcoming entrance.
Step 2: Set the Right Price
2.1 Research the Market
Analyze recent sales in your area to understand the local market conditions.
For your free Comparative Value Report, contact me or complete the form at: https://form.jotform.com/41568554168161 
2.2 Consider Your Goals
Decide on your minimum acceptable price and your ideal selling price.
Be prepared for negotiation but stay realistic about your property's value.  When hiring me as your Realtor, I am able to guide you through the offer review and negotiation process.
Step 3: Hire a Realtor
3.1 Choose a Qualified Agent
As a Realtor with vast experience and a proven track record, I would be a great fit for your needs.
3.2 Sign a Listing Agreement
As your Realtor I will help you market your home, handle paperwork, and negotiate on your behalf.
Step 4: Market Your Home
4.1 Professional Photography
Investing in high-quality photos to make your listing stand out online is essential.  This is one of the things I pay for as your
Realtor.  There are other various tools I utilize to market your home for sale such as social media, open houses, postcards,
virtual tours and more.
4.2 Online Listings
As your Realtor I will list your property on multiple platforms, including the MLS and real estate websites.
Create a compelling property description highlighting key features.
4.3 Open Houses and Showings
Make your home available for showings and open houses.
Keep it clean and tidy for potential buyers.
Step 5: Negotiate Offers
5.1 Review Offers
Carefully assess each offer, including price, contingencies, and proposed closing date.
As your Realtor I will help you negotiate with buyers and provide guidance.
5.2 Counteroffers
Be prepared to make counteroffers if the initial offer doesn't meet your expectations.
Communicate with your Realtor to find a mutually acceptable agreement.
Step 6: Complete the Transaction
6.1 Accept an Offer
Once you and the buyer agree on terms, accept the offer, and enter into a contract.
6.2 Inspections and Appraisal
Cooperate with buyer inspections and appraisals. Be ready to address any issues that arise.
6.3 Closing Process
Work closely with your Realtor, Lender, and title company to ensure a smooth closing process.
Sign all necessary documents and transfer ownership.
Step 7: Move Out
7.1 Pack and Prepare
Start packing and organizing your belongings in advance of the closing date.
Arrange for movers or rental trucks as needed.
7.2 Final Walk-Through
Accommodate the buyer's final walk-through to ensure the property is in the agreed-upon condition.
Step 8: Celebrate Your Sale
Selling your home can be an emotional process, but it's also a significant accomplishment. Take a moment to celebrate your successful sale and look forward to your next adventure.
Remember that this seller's guide is a general overview, and each real estate transaction is unique. As your Realtor I will be your trusted guide throughout the process, providing personalized advice and expertise. By following these steps and working closely with your real estate professional, you can increase your chances of a successful and profitable home sale.
*****************************************************************************************
Prefer to skip the process of listing, showings and repairs?  Request a free cash offer on your home by filling out the quick form at: https://www.cognitoforms.com/Realtor9/RequestACashOffer 
Request a free home value report at: https://form.jotform.com/41568554168161